RABIES FREE AFRICA
Learn the stories of some of the key people behind this effort to save lives in Africa.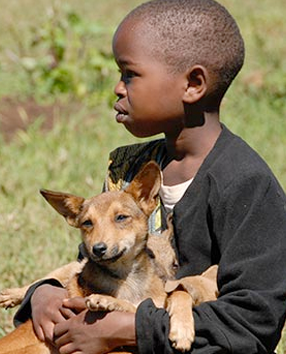 Rabies Free Africa provides widespread, annual vaccination campaigns to control this deadly disease. Previously called 'Afya Serengeti', it started as a research project in 1996. It has evolved over time to become a rabies control programme that works to vaccinate against rabies in villages and surrounding communities in the Serengeti region. Learn more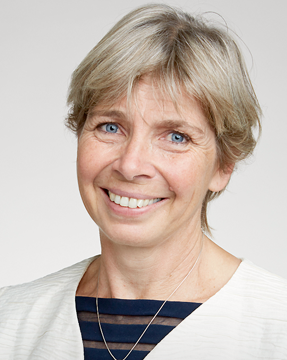 Professor Sarah Cleaveland, OBE VetMB PhD MRCVS FRS FRSE is a veterinary surgeon and Professor of Comparative Epidemiology at the University of Glasgow. She obtained a BSc from the University of Southampton, a degree in veterinary medicine from the University of Cambridge, and a PhD from the London School of Hygiene & Tropical Medicine.
Professor Cleaveland was awarded the British Veterinary Association Trevor Blackburn Award in 2008 in recognition of her work on animal and human infectious diseases in Africa. She was elected a Fellow of The Royal Society of Edinburgh in 2012, elected to the US National Academy of Medicine in 2015, elected a Fellow of the Royal Society in 2016, and elected as a Fellow of The Academy of Medical Sciences (UK) in 2019. She was awarded the George MacDonald medal from the Royal Society of Tropical Medicine and Hygiene and received an MSD Rabies Hero award in 2020. She was appointed Officer of the Order of the British Empire (OBE) in 2014 for services to veterinary epidemiology.
Her research received an award from Tanzania National Parks for scientific research in Tanzania. A large part of Professor Cleaveland's research has focused on the epidemiology of zoonotic diseases, including rabies. Her work has involved the initiation of mass rabies vaccination programmes in the Serengeti, where she led the original Serengeti project. She is a pivotal figure in the drive towards global rabies elimination.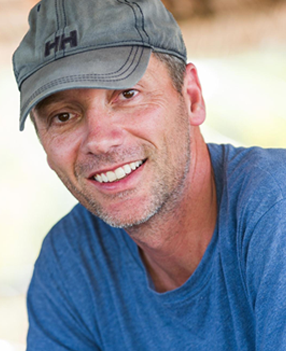 Dr. Felix Lankester, PhD is a veterinarian with an ecology and environmental biology PhD and a Clinical Associate Professor at the Washington State University, Paul G. Allen School for Global Health. Dr. Lankester is also the regional representative of Global Animal Health – Tanzania, an organisation working to deliver One Health research programmes to East Africa, and the Director of the Rabies Free Africa.
In 2012, Dr. Lankester was the Post-Graduate Skills Training Award recipient from the University of Glasgow and an International Society for Veterinary Epidemiology and Economics Bursary Award winner. He received a Veterinary Epidemiology and Animal Health Economics Certificate from the Royal Veterinary College (UK) in 2013. In 2014, the University of Glasgow awarded him a Lister-Bellahouston Traveling Fellowship and the Post-Graduate Skills Training Award. He was awarded an MSD Rabies Hero Award in 2020.
Dr. Lankester is also a Co-Director of the Pandrillus Foundation, an organisation implementing primate conservation projects in Nigeria and Cameroon. His current research interests include investigating novel methods of rabies vaccine delivery that can play a transformative role in efforts to eliminate human rabies globally by 2030.5
Dr. Lankester has authored several scientific papers concerning infectious diseases in animals, zoonoses in humans and improving methods of vaccine storage and delivery.5
MISSION RABIES
Meet some of the team members who have been instrumental in the success of this rabies elimination effort.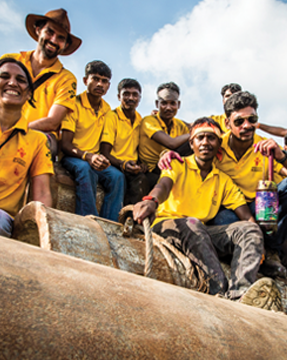 Mission Rabies was founded with the goal of eliminating rabies and saving countless lives. The programme launched in India, the world's hotspot for rabies. The activities of this non-profit organisation include education and community engagement, ongoing team efforts to cover endemic locations, campaigns with volunteers and emergency teams to respond to acute outbreaks. Learn more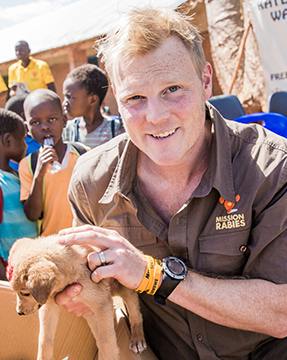 Dr. Luke Gamble, BVSc DVM+S FRCVS is a veterinarian who graduated from Bristol and spent a year on a clinical scholarship at Cambridge University studying large animal medicine and surgery. Dr. Gamble set up his own practice in the New Forest in the South of England where he treats all types of animals. Dr. Gamble is the founder and CEO of Worldwide Veterinary Service and Mission Rabies and to date has raised over £12 million to support the charities and associated projects around the world.

In 2014, Dr. Gamble sat on an expert panel for the International Control of Neglected Zoonotic Diseases as a result of his global rabies work. He was awarded an Honorary Degree of Doctor of Veterinary Medicine and Surgery by Edinburgh University in 2017. In 2018, Dr. Gamble was made a Fellow of the Royal College of Veterinary Surgeons. He is the recipient of numerous awards including the JA Wight Award by the British Small Animal Veterinary Association, the Jeanne Marchig Animal Welfare Award and the Global One Health Award by the WSAVA as well as the winner of CEVA Charity Professional of the Year, IFAW Vet of the Year and MSD World Rabies Hero.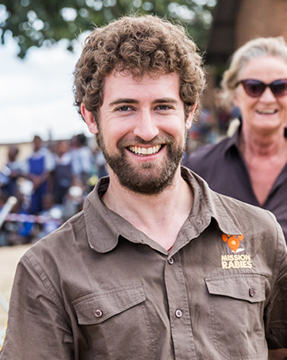 Dr. Fred Lohr joined the Mission Rabies team in 2014 and is the Director of Strategic Partnerships. Dr. Lohr is a graduate of the Faculty of Veterinary Medicine Munich, Germany where he developed an interest in veterinary public health and disease control.

While serving President of the International Veterinary Students Association he established collaborations with international organisations like the OIE and conducted part of his rotations at FAO headquarters in Rome.

Dr. Lohr is focused on establishing and maintaining key partnerships for Mission Rabies with international organisations and partners while overseeing the general management and operations of the charity.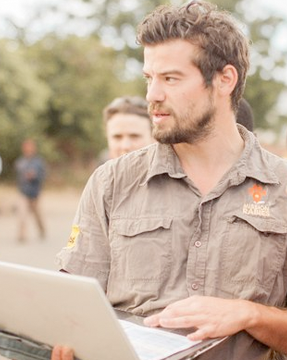 Dr. Andy Gibson joined Mission Rabies as a volunteer in 2013. He is now the organization's Director of Strategic Research, where he drives the field strategy of projects, develops surveillance protocols for testing rabid dogs, and gathers data on intervention impact.

He was instrumental in developing a custom smartphone app that helps facilitate mass dog-vaccination campaigns. The app now has more than 300,000 entries and is used in seven countries.

Dr. Gibson was responsible for publishing many of Mission Rabies' key scientific achievements and discoveries including a description of the Vaccine-Assess-Move methodology used in India. He also published numerous articles concerning canine mass-vaccination rabies elimination campaigns and the use of a data-driven approach to deliver vaccines. Most recently, he authored a landmark paper published in Nature Communications which outlines the dramatic impact of their integrated One Health approach over a number of years which has resulted in the elimination of human rabies in Goa, India.
He is currently pursuing a PhD at The Roslin Institute at the University of Edinburgh, studying the methods and outcomes of mass dog vaccination and rabies surveillance.
---